Common Sense Sun & Bug Protection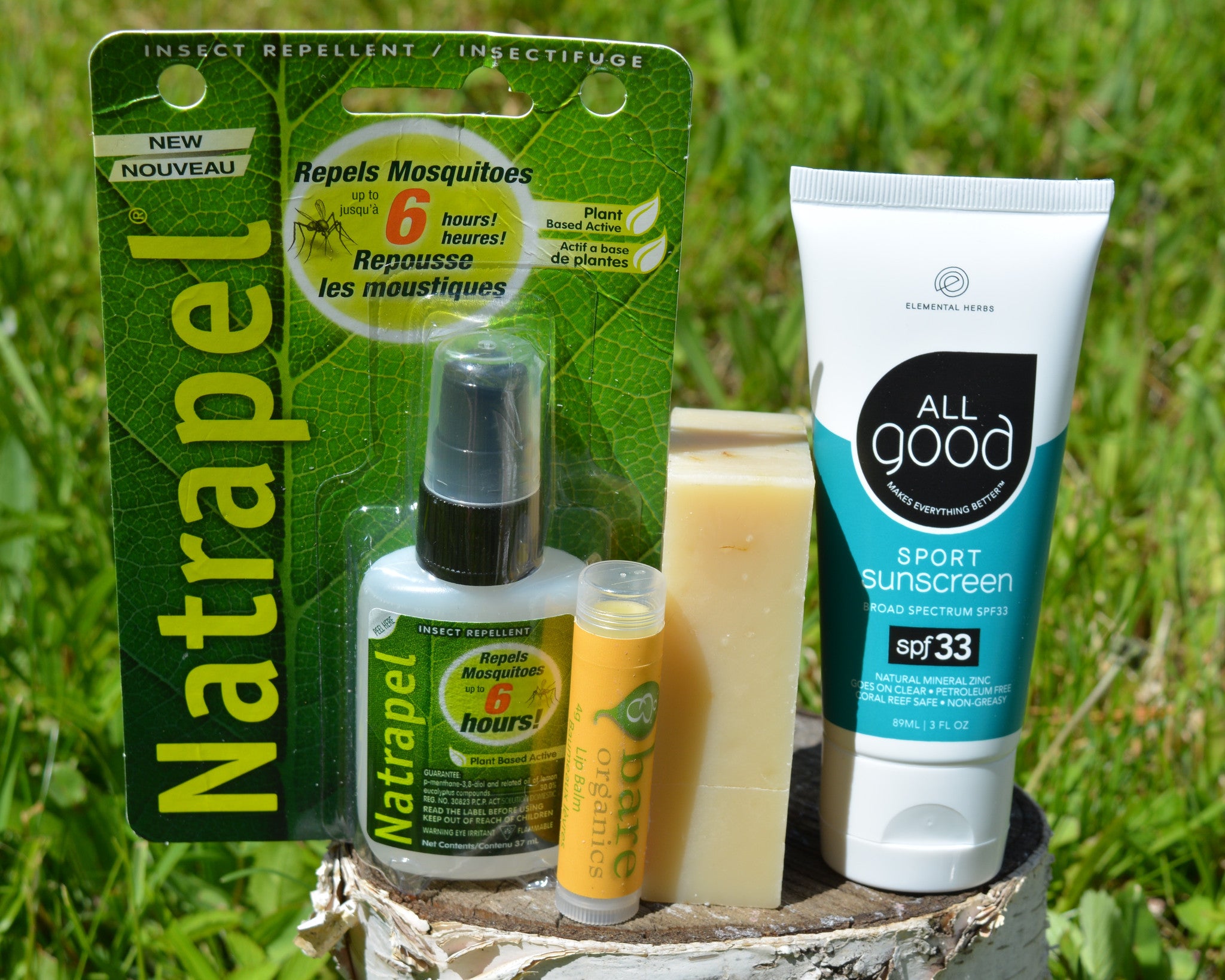 Common Sense Sun Protection
I absolutely love soaking up the sunshine this time of year. While it's true that the sun's rays are far more powerful now with our depleting ozone layer, sunshine is still vital for our health. It allows the body to produce vitamin D which is essential for our well-being, and it provides a real psychological boost. But getting sunburned, especially repeatedly, is not fun, nor safe.
As with all things, we take a common sense approach to sun safety. We are not big proponents of lathering up in sunscreen every minute of your time spent outdoors. And we don't think tanning oil is a good idea either. So here are some tips for you and your little ones to practice common sense sun safety:
Practice wearing hats, sunglasses and long sleeved, light clothing (when feasible). Additional ideas for kids include: sun shirts/suits for kids (a must-have for my redhead), sun umbrellas, sun shades/tents, and stroller covers for wee ones.
Eat a diet full of anti-oxidant rich foods including leafy greens, berries, green teas and other quality internal nutrition that will protect your skin and fight damage from the sun's rays.
When needed, apply a decent amount of zinc-oxide based sunscreen to exposed areas. Check out EWG's Sunscreen Guide for ratings and customer reviews. Watch out for ingredients in many commercial products that may make you more sensitive to the sun (defeats the purpose, no?).
If using sunscreen, be sure to use enough, and to re-apply sunscreen every 2 hours or after swimming or vigorous exercise. When we use sunscreen, we use All Good by Elemental Herbs.
Alternatives to commercial sunscreens include making your own with zinc oxide (here is a recipe for a sunscreen bar). We used to make our own, but I have yet to find a recipe that isn't at least somewhat greasy.
Other natural oils that have an SPF of about 4-6 include jojoba oil/wax, beeswax, hempseed oil and sesame oil. Use at your discretion.
Common Sense Bug Protection
Biting insects are the unfortunate part of summer. From black flies to mosquitoes to no-see-ums to deer flies, I hate each and every one of them, and they all LOVE me. What to do?
Here are some common sense approaches to bug protection:
Avoid dusk and dawn outdoors. If beasts love you, you need to avoid their most active times of the day. If you have little ones, don't subject them to the outdoor feast at these times.
Again, choose clothing as your first line of defence. Long sleeves, long pants, socks and hats can go a long way to keeping you protected. If your little one must be outside and they are super delicious, consider a bug jacket (if they will wear it).
For personal protection, you can choose a commercial variety or make your own. Most commercial sprays or lotions contain DEET which is shown to be effective at keeping bugs away, but it is also highly toxic. I would NOT recommend DEET products on babies or young children unless absolutely necessary.  Spray on clothing first and skin only if absolutely necessary. Wash off once back inside.
We are also now carrying a new non-DEET product called Natrapel which is made from lemon eucalyptus oil (approved by Health Canada). I would exercise the same cautions using Natrapel as you would DEET.
Some folks see benefits using outdoorsy smelling products like our lemongrass/peppermint/oats n cloves bar soaps, or our moisturizing Outdoor Balm.
Lastly, you can google a bunch of do-it-yourself recipes for your skin, or for your home or patio/deck. The ingredients we've found to be the most effective include catnip essential oil, lemon eucalyptus essential oil, soybean oil (organic!), and other essential oils. 
---
Leave a comment
Comments will be approved before showing up.